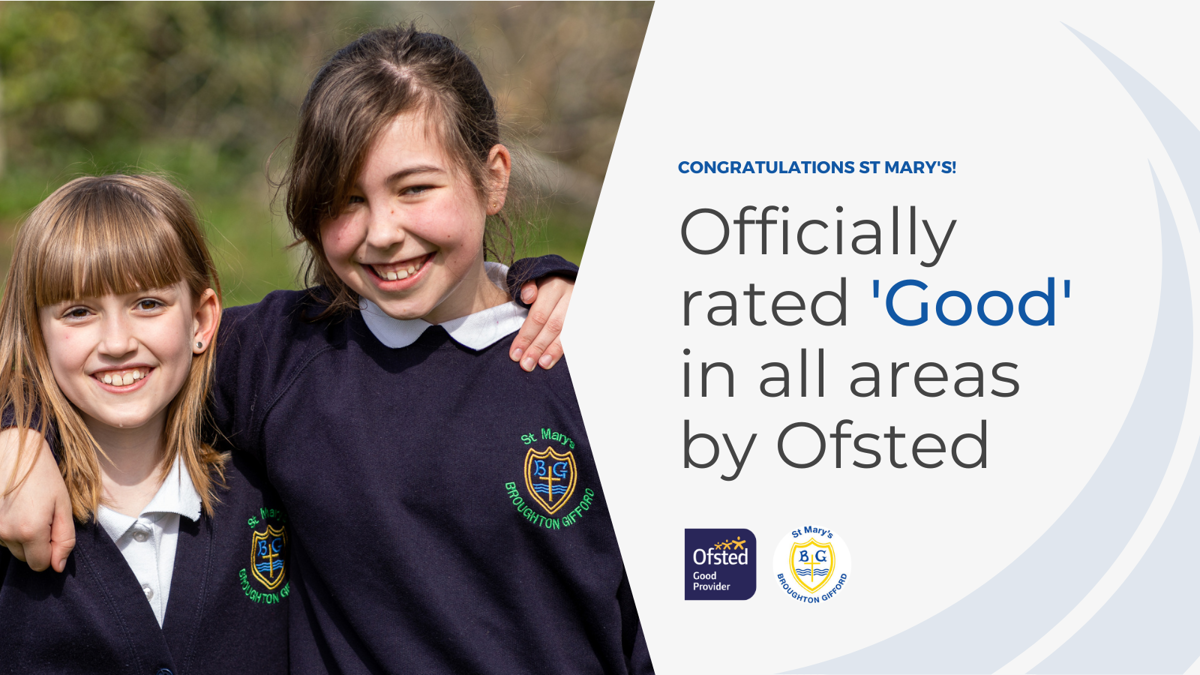 St Mary's Broughton Gifford has received a 'Good' rating from Ofsted for the very first time. Staff and pupils have both put a monumental effort into helping improve expectations at our school. We are extremely proud of them all.
In the report, Ofsted described St Mary's as a 'welcoming village primary school which is at the heart of the community.' Inspectors go on to praise our 'well-designed and considered curriculum' alongside the established routines throughout the school, inspectors stating that 'pupils know the expectations well and follow them.'
Here is a quotation that stood out to us from the report:
'Leaders are ambitious for all pupils, including those with special educational needs and/or disabilities (SEND). They have a vision that is understood by all. With support from the trust, leaders have focused on improving the quality of education. Leaders have prioritised the teaching of reading. There is an effective, systematic and consistent approach to teaching phonics. Teachers check that pupils keep up with where they need to be.
Comments further applaud the school's personal development through 'Christian ethos as well as the curriculum' noticing pupils focus on the 'school's core values.'
Lastly, Ofsted go on to talk about the Safeguarding arrangements at St Mary's:
'The arrangements for safeguarding are effective.
Leaders ensure that pupils' safety is a priority. Adults are well trained and vigilant. There is a strong culture that 'it could happen here'. Leaders work with external agencies to ensure that pupils receive the support they need.
There are robust systems and processes in place to ensure that adults who work in the school are suitable.
Pupils are taught how to keep themselves safe in their day-to-day lives. The computing curriculum supports them to understand how to stay safe online. Pupils also learn how to use the green cross code and the dangers of fire.'
We hope all of our students and staff take pride in their fantastic achievements and we are grateful for the support from parents and carers who continue to work so well with us.
We strive to create the best learning environment possible for our pupils and will continue to work towards higher standards at St Mary's Church of England Primary School.